Weather is affecting your gutters constantly. High-speed winds, heavy rainfall, hail, snow, and ice can all create serious, often non-repairable damage to your roof's drainage system. Therefore, after every severe weather occurrence, a thorough roof inspection is required. Your gutters can be the most hard-hit victim of storm damage around your house without you realizing it. This means your gutters can take the brunt of the wind's force.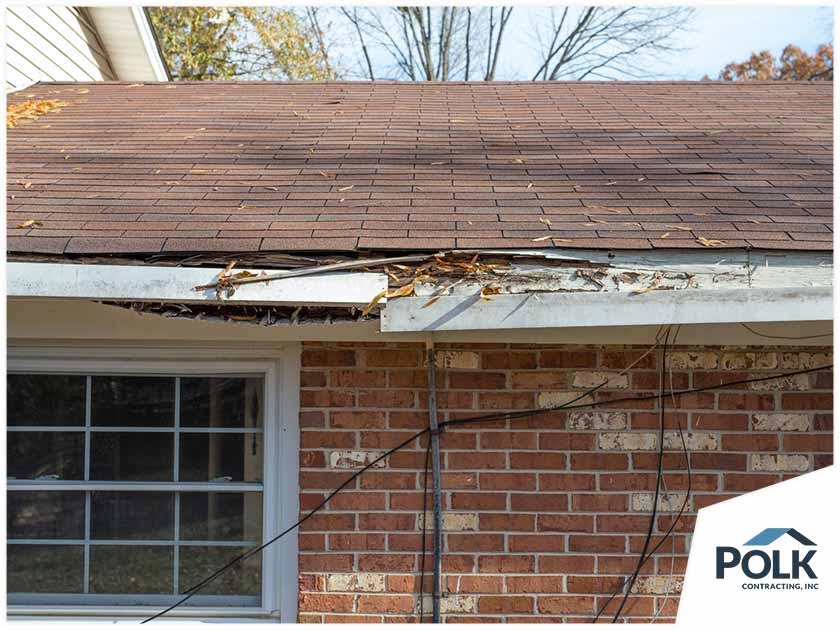 In today's post, local window and door contractor Polk Contracting, Inc. discusses how wind can cause damage to gutters.
Especially strong storms can produce too much wind for improperly installed or old gutters to handle. The shape of gutters can effectively catch the wind at certain angles, which can cause them to rip off dramatically. Vertically aligned gutter components are at risk as well.
The constant movement of strong wind eventually weakens the gutter's metal, much like bending a paperclip back and forth causes it to break. Metal fatigue can affect the screws or nails holding the gutters in place as well. While cracks in the metal can spread quickly, regular inspections can help you detect this problem before it's too late to fix it.
Wind can carry debris into the air during a storm. When inspecting your gutters, keep an eye out for signs of rot and corrosion, such as pieces falling off the fascia, peeling or blistering paint and brown streaks coming from fasteners. If you are planning to replace your gutters, make sure your gutter and siding contractors are using stainless steel screws.
Tree limbs can scratch the paint and caulking on your gutters, which can expose the bare metal underneath to leaks and corrosion so make sure that they're regularly trimmed. Large branches can also push the gutter troughs enough to bend them. Maintain a ten-foot clearance between the outermost branches and the roof.
Tips For Maintaining Your Rain Gutters
Tip 1: Clean your gutters. Do a deep clean after the leaves stop dropping in the fall. Cleaning the gutters is time-consuming, so be sure to plan for a few hours from start to finish.
Tip 2: Use gutter cleaning tools. Rinse your gutters with the garden hose after cleaning. A little water will wash away any access debris or standing water that should be addressed.
Tip 3: Consider installing gutter guards. With the gutter guards, the leaves and needles are kept out of your gutters, allowing the wind to remove debris when dry.
Tip 4: Hire a gutter cleaning service. If your roof is higher than a single story, you're likely better off hiring a gutter cleaning crew.
Protect your home with a new gutter system installed by our team. Polk Contracting, Inc. is the leading home exterior and door replacement contractor that offers a range of gutter options to complement any home. You can call us at (410) 835-4586 or fill out this contact form to request a quote. We serve clients in Bel Air and Abingdon, MD, and surrounding areas.